The story of my interest in the family origins probably began when my father told how his father "jumped ship" as a young boy in Melbourne and was found walking the streets of South Melbourne in tears and was taken in by a woman with whom he boarded for a number of years.
With this, and other small details hidden away in the back of my head, it was not until after I was married and found that my wife, Dianne, also had a deep passion for things French. This included keeping up her knowledge of the French language which she had learned at school. As my Secondary education was at Technical Colleges, languages were not offered
After some time Dianne and I decided to begin the search to prove the story and spent a few years during rare visits to Melbourne searching the records at the State Library looking through lists of deserters from foreign ships and eventually came up with Grandpa's Notice of Desertion, above.
This then, gave inspiration to go further and so, after a few years of delving into Plouha church records we had established a fairly comprehensive family tree dating back to the seventeenth century. It is interesting to note that more than half of the ancient family names six generations before Guillaume, are still living in Plouha - Eg. Blanchard, Cartier, Lariven, Le Fevre, Peron, Rabin, Thouement and Uro.
As my father had been in France during the first world war he had visited Plouha and met cousins there and brought back a a number of family photos which fortunately mum had kept, but unfortunately, bore few names. One cousin that dad had met was Eugenie Auffret and my younger brother Bill visited her in the early 1960's and he passed on her details to us. She was my father's second cousin and so we began a correspondence with her and sent over copies of the photographs for her to identify which she did.
In 1976, we decided to pay her a visit. She was a widow with no children, around 80 years old at this time and living in the Maison St. Joseph, a home for old ladies in Plouha. This was indeed a most fortunate meeting, for Eugenie took us out to show us the house below at Kerouziel, where my grandfather Guillaume was born. As far as Eugenie knew she was the last of the family, the two children in the old photos had moved to Paris and married and were lost to her knowledge. Three further visits to Brittany and France have passed since that time and we have now met many members of the family scattered throughout France and had many enjoyable times together.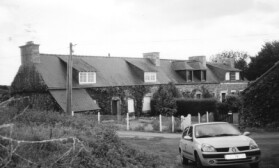 Contact John Le Quiniat at
lequiniat@yahoo.com